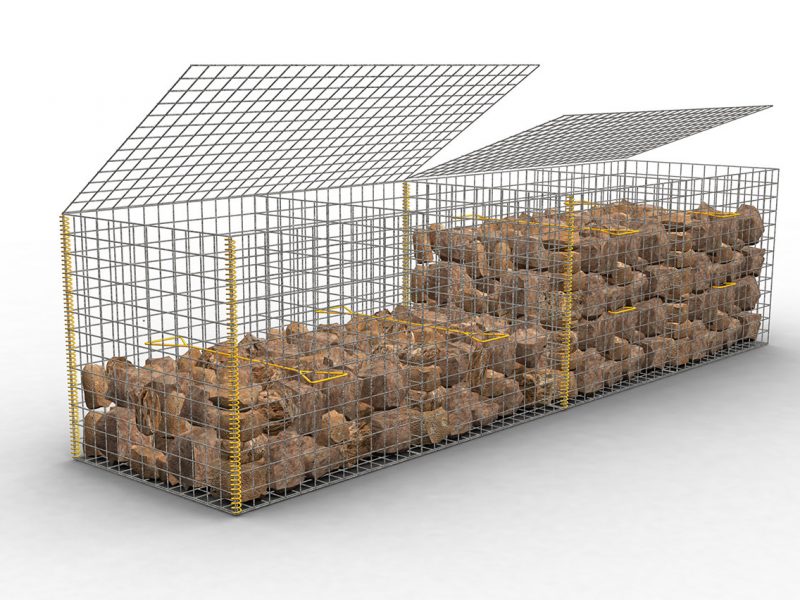 Welded gabion
Welded gabion is a construction composed of welded wire nets and most often filled with aggregate. Welded gabion nets are made of thicker wires than braided wires so that the weld is strong enough and tear-resistant. The wire is specially surface- treated with a thick layer of a durable alloy of zinc and aluminum , which protects it from the effects of the weather for a long time. The standard mesh size is 100 x 100 mm . In case of using a smaller fraction of stone or due to other taste, we can offer customers welded gabions with a mesh of 100 x 50 mm , which can be oriented horizontally or vertically.
Benefits
Permeability

. Stone filling is characterized by porosity that enables water to flow and doesn't create hydraulic pressure on the panels of gabion structures, it has drainage function.

Flexibility and versatility

. Gabions are able to deform while still retaining their integrity, they adapt themselves to terrain where the concrete structures may crack and fail, they are suitable for unstable subgrades.

High resistance and durability

. Secured by outstanding features of steel wire, its surface treatment by heavy galvanization or PVC coating and by the quality of stone filling. 

Ecological and aesthetic.

Gabion structures during their lifetime merge with surrounding nature, they are grown over by local vegetation, look more aesthetic than concrete structures. 
Application
in Civil Engineering, construction of road and railway embankments, bridges, retaining walls, water dams, channel lining and river training works for following main purposes:

to stabilize shore or slope against erosion 

to create a barrier that prevents erosion 

to hold back earth or other solid materials without overturning, sliding or foundation failure 

to prevent silt and topsoil from washing away during heavy rains or even floods to reduce water velocities and re-capture bed sediment in streams

in Military Engineering to protect artillery crews
Functions