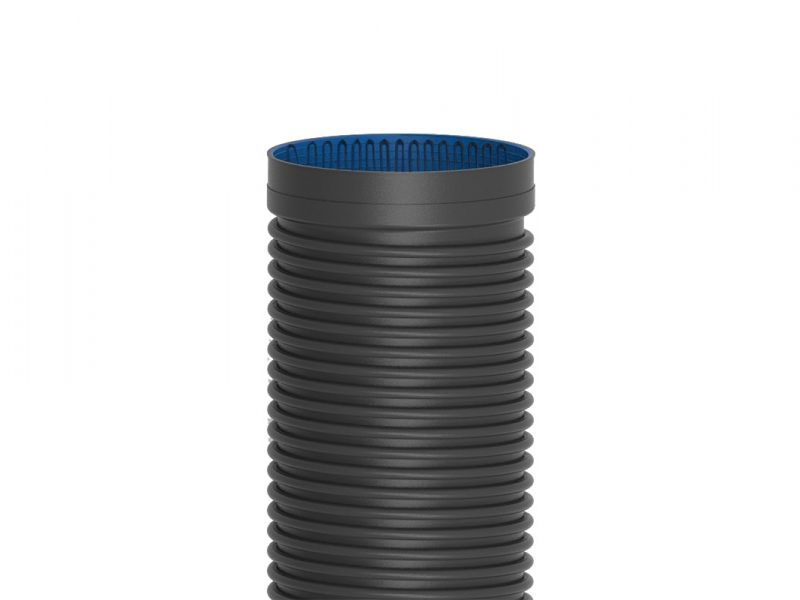 FKS Pipes and Fittings
The producing technology for large diameter thermoplastic pipes FKS is considered the most advanced and it allows to produce the widest selection of pipe products. This is a combination of universal production line which allows produce thermoplastic pipes with a diameter from 300mm – 4000mm and special line for a production of large amount of different ring stiffness pipes. The length of pipes produced is 1-6 meters.
FKS pipes are produced according to EN 12132, DIN 19661-1 and DIN 16961-2 standards.
Today DIN 16961 is the only standard available EU covering pipes with diameters over DN 1200, more specifically out of scope of the EN 13476 (the application range of EN 13476 is DN 100 – DN 1200). That is why most of the large diameter pipe producers use DIN 16961 for classification of their pipes over DN 1200.
Advantages
Weldability

Good chemical resistance

Impact resistance

Resistance to microorganisms, rodents and termites

Hydraulics

Abrasion resistance

UV-resistance

Deformation resistance
Application
Collectors, sewage and other pipe systems

Manholes and pumping stations

Pressure pipes

Outfall pipelines

Ventilation pipes

Multi-profile solutions

Profiles
FKS pipes are produced in five different profile structures according to application area and purposes.
PR series : External profiled pipe SQ series : Inside wall profiled pipes VW series : Straight spiral (w/o profile) pipes
PR and VW series pipes can be produced from HDPE and PP raw material. SQ1, Q2 and SQ3 series pipes are only produced from HDPE raw material.
PR SERIES PIPES

– In the FKS pipe system, PR series pipes are the pipes with smooth internal surface and profile wound external surface. This type pipes are generally preferred pipes for sewerage and free flow of the fluids.
VW SERIES PIPES

– In the FKS pipe system, VW series pipes are the industrial pipes with completely smooth internal surface and without profile reinforcement. The pipes are used in the make of silo, tank and pipe and in special projects requiring high load resistance.

SQ SERIES PIPES – In the FKS pipe system, SQ Series pipes are special designed pipes for industrial silo and tank production.
SQ1 SERIES SINGLE LAYER PROFILE SUPPORTED PIPES

SQ2 SERIES DOUBLE LAYER PROFILE SUPPORTED PIPES

SQ3 SERIES TRIPLE LAYER PROFILE SUPPORTED PIPES